"Every emperor and ruler must, upon returning from his official duties and audience, have a garden in which to stroll, to look around, and find rest in his heart " according to Giamatti, in his studies of great gardens of China.
True enough, even today, after working so hard to improve our lives, we need a place for meditation, private conversation with friends and loved ones, book reading, and all other activities of the highest human expression.
As Yuan Ye said, "If one can seek out remoteness within a noisy place, why should he abandon a nearby site on his desire for a distance?"
Chinese, Filipinos, Japanese and all people of the world have yearning in their heart to find a place to relax and contemplate in silence, what he has made out of his life and what he wants to be. And what better place would create a feeling of isolation and separation from the city's hustle and bustle than a garden. This is the right place to relax your stressed nerves from the very busy and tiring work. This is also precisely the right place to enjoy your escape from the busy and stressful air in the city life. When you get here, you will feel relaxed and stress-free.
In answer to this need, Jamaica Realty and Marketing Corporation envisioned to create a Chinese Garden for Jardin Real, which we will aspire to last a thousand years.


SUBDIVISION FEATURES
– 10 to 15 meter-wide concrete roads
– Concrete curbs and gutters
– Concrete sidewalks
– Underground drainage system
– Landscaped Grand Entrance with Guardhouse
– Swimming Pool
– Basketball and Tennis Court
– Jogging path
– Clubhouse
– ALECO Electrical Facilities
– Water System connected to local water district
CHINESE GARDEN HIGHLIGHTS
– Chinese designed main entry arc
– Moon gate
– Meditation Garden
– Lotus pond with man-made water falls
– Elevated open and covered Chinese imperial court guarded by icons of dragons and chinese lions
– Service Gazebo
– Landscaped oriental garden
– Concrete walk paths
– Perimeter fence
– Rest Rooms
Jardin Real de Naga Subdivision Plan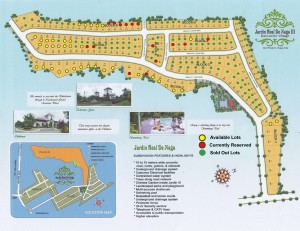 Please contact us for the availability and for more info.