Naga City is a real estate wonder with consistent developments in housing. Businesses will continue to grow and lots of professionals will do business in this city in the next decades. Deca Homes Naga City is one of the city's prides for it offers affordable prices and that this market of real estate in the city will continue to increase. The dynamic development of real estate goes towards the barangays of the city whereas there are still rooms for improvement. The development of establishments such as the health facilities and other universities are one of the reasons why people from other towns and provinces are coming to the city.
Thriving for many years in the city, Deca Homes inaugurated newly the four-storey corporate center just along Panganiban Drive and the three floors were rented out. The subdivision is meant for newly-wedded couples or for families who want to have their own homes. Why rent for a house when you can have them on your own? Start investing your money in good hands!
If you are still in doubt, relax yourself because the subdivision  has many amenities and facilities to offer to each of their customer. Deca Homes in Naga City is one of the best as to its price. So make your dream come true and enjoy your own home.
Grandvale Subdivision Phase II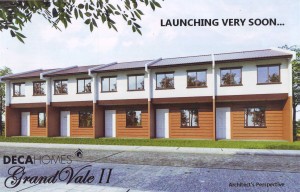 Grandvale Subdivision Phase II will be located at San Felipe, Naga City. It is near schools, malls, hospitals, commercial area and churches. Please inquire us for more information about the project.
Sabella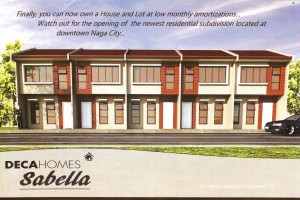 Sabella by Deca Homes is located in Abella, Naga City. It is walking distance in downtown Naga, so it is very accessible to any establishments in Naga including malls, schools, grocery stores, government offices and more. Inquire us now for more information about this project.